The Amer 94 twin is fuel efficient, considerably lighter than contemporary yachts and promotes the use of environmentally-friendly materials. Nicknamed 'innovation lab', the new Amer 94 is a testament to the Italian yacht-builder's enthusiasm for pioneering the use of cutting-edge products for the benefit both of customers and oceanic health.

"Sustainability is important to our philosophy and we have been offering our contribution to the nautical industry for several years as we know that yacht-builders are important players in changing customers' attitudes," says Barbara Amerio, owner of Amer Yachts.

"We nicknamed the yacht 'innovation lab' due to the many components, solutions and materials used for the first time on board."

Natural evolution

The new Amer 94 is the fourth model in Amer's 94ft series, and builds on the success of the previous vessels. The initial 2015 model, named 'Save the Sea', was the first European yacht of more than 90ft to use Volvo Penta's innovative IPS propulsion – D13-IPS1200.

The new vessel is the first 94ft yacht to be powered by twin Volvo Penta D13-IPS1350 – the highest performance Volvo Penta IPS. "The new Amer 94 with twin D13-IPS1350 represents a natural evolution after we analyzed customers' reaction to our use of IPS," says Amerio. "We want to keep going forward, and the test to continually reduce fuel consumption and emissions is a challenge we set ourselves."

Light, strong and environmentally-friendly

Volvo Penta IPS delivers high power and performance with smaller engines compared to a traditional inboard shaft installation. The end result is efficiency gains, including reduced fuel consumption and emissions, as well as a decrease in overall weight onboard. This contributes to the ability to design a lighter yacht.

A number of additional elements minimize the weight of the yacht, including the use of cork decking instead of teak, variable phase generators rather than traditional units, stabilizer fins instead of gyro-stabilizers, and light pantograph doors. The new Amer 94 is up to 20 tons lighter than comparative-sized competitors' yachts – the equivalent of three large elephants.

In addition, Amer has incorporated materials with a reduced impact to the environment in mind. These include airlite paint that reduces CO2 to purify air, high efficiency lithium batteries, eco-friendly submarine film instead of anti-fouling paint, a waste-water system for crew use, and a reduction of plastic components.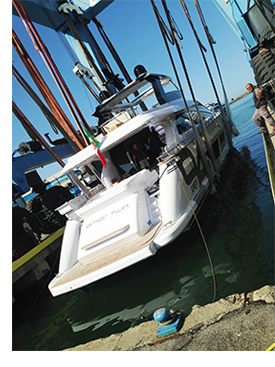 "We have spoken to a lot of experts and tested new materials, and checked each detail to choose items that are light and strong," adds Amerio. "When Volvo Penta launched the D13-IPS1350, it gave us the idea to use a twin installation for long displacement cruising, and the stability of the yacht at slower speeds is assured with Humphree stabilizer fins."

Shared vision for marine health

"At Amer, we are successful if we are innovative, and that is combined with our experience and passion for our work," says Amerio. "Amer Yachts and Volvo Penta IPS have become synonymous for our customers, and the use of the D13-IPS1350 will permit us to convince those customers who are used to traditional inboard engines to try a different solution."

Volvo Penta IPS is a fully integrated propulsion system, from the helm station to the propellers. In addition to offering reduced fuel consumption and fewer emissions, it provides unrivalled maneuverability and more space onboard thanks to its compact dimensions.

"With the D13-IPS1350, customers can travel fast when they want to and also cruise slowly and comfortably – all with exceptional fuel efficiency," says Nicola Pomi, vice president of sales in Europe at Volvo Penta. "The Amer 94 has a longer cruising range, with less fuel required than other vessels with traditional inboard shaft installations. Overall, Volvo Penta and Amer Yachts continue to work towards ensuring excellence for customers as well as offering a positive impact on marine."